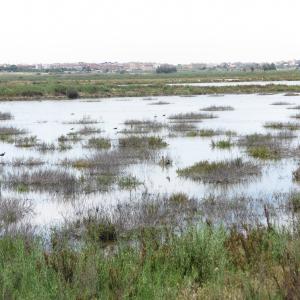 Contract
Funding
Mancomunidad de los Canales del Taibilla.
MINISTRY FOR THE ECOLOGICAL TRANSITION AND THE DEMOGRAPHIC CHALLENGE OF SPAIN
50.000 €
 
General Objectives
The work is aimed at environmental monitoring and surveillance related to the piezometry and salinity of the aquifer, the salinity and moisture of the soils in the salt marsh, as well as the evaluation of the flora and the soil-water-vegetation relationships in the area.
The purpose is to establish technical criteria for the management of the irrigation programme established in accordance with the Environmental Impact Survey, as well as to monitor its efficiency in terms of mitigating the impact of the desalination plant abstractions.
Project Results
PAPERS:
Alhama, I, García-Ros, G., González-Alcaraz, M.N., Álvarez-Rogel, J. 2022. Long-term artificial seawater irrigation as a sustainable environmental management strategy for abandoned solar salt works: The case study of Agua Amarga salt marsh (SE Spain) https://doi.org/10.1016/j.catena.2022.106429. Catena 217, 106429.