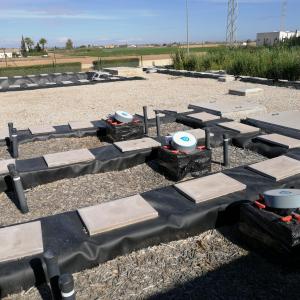 Contract
Funding
TRAGSATEC. TECNOLOGIAS Y SERVICIOS AGRARIOS, S.A.
11.176,47 € + I.V.A.
Duration
October 2022-November 2022
General Objectives
Preparation of a report on the treatment for denitrification of water from the Quaternary aquifer of Campo de Cartagena using a system of woodchips denitrifying bioreactors. This report is included in the Framework of Priority Actions for the Recovery of the Mar Menor, within Line 2.1. System of actions for the restoration of ecosystems on the perimeter strip of the Mar Menor and creation of the Green Belt.
Summary
PHASE 1. Initial proposal on the possible treatment lines (similar to a study of alternatives) including information on their feasibility and recommendations for the design of the lines (first conceptual or strategic advance).
PHASE 2. A detailed description of what the denitrifying bioreactors consist of, how these systems work and what their potential and limitations are, the expected yields, sizing, maintenance conditions for their good operation and aspects to consider for their monitoring.
The development of the work must be coordinated with the design of the constructed wetlands, which receive the water treated in the bioreactors and complement the purification treatment.
Project Results
The report was delivered to TRAGSATEC according to the established deadlines.